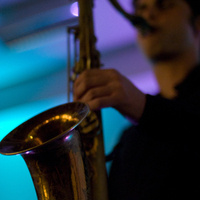 Brubeck Institute
The Brubeck Institute was established within the Conservatory of Music in 2000 to honor its distinguished alumni, Dave and Iola Brubeck. The Institute is comprised of five core programs: the Brubeck Collection, Brubeck Festival, Outreach Program, Brubeck Fellowship Program, and the Summer Jazz Colony. The institute offers many performances throughout the year both on campus, in the community and across the nation.
Born in Houston, TX, where she attended the High School for the Performing and Visual Arts, Helen Sung was an aspiring classical pianist before jazz...

Come see our very own Brubeck Institute Quintet for the last show of the fall 2018 season and to celebrate Dave Brubeck's Birthday! Hope to see you there!
Recent Events