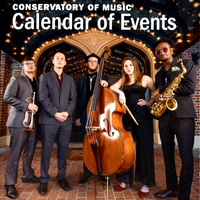 Conservatory of Music
Pacific's Conservatory hosts upwards of 100 performances each year. It is home to nationally recognized Brubeck Institute Jazz Quintet and Pacific Opera Theatre. Our busy concert schedule features students, faculty, nationally and internationaly renowned guest artists, as well as the University Symphony Orchestra, Pacific Concert Band, choirs, and a variety of music ensembles.
Tickets can be purchased at the door on the day of the event or ahead of time at go.Pacific.edu/MusicTickets. Online sales close at 5 pm one day before the event.