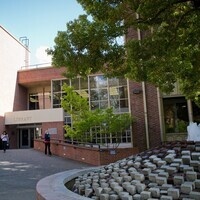 University Libraries
The University Library delivers its services from two facilities. The main library, the William Knox Holt Memorial Library, provides resources in the humanities, fine arts, social sciences, music, business, education, natural and physical sciences, and engineering. The focus of the Health Sciences Branch is on pharmacy and physical therapy resources. These facilities offer a variety of study settings, including carrels, large tables, lounge areas, and group study rooms. Independent of the facilities, a rapidly increasing number of network-based library resources are available throughout the campus, around the clock. The Legal Studies Center on the Sacramento Campus houses the law library.

The benefits of Open Access publishing will be explained in this talk. The presenters will clarify the difference between Gold and Green OA, discuss funder...

The Digital Repository Coordinator will demonstrate the repository and associated individual scholar profile pages. She will discuss benefits, participation...

Attendees will learn about the benefits and limitations of citation analysis. We will also provide help to find metrics such as h-index or Journal Impact...
Recent Events