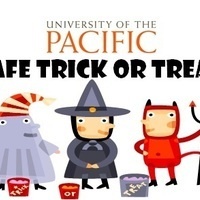 14th Annual Safe Trick or Treat
Wednesday, October 24, 2012 at 4:00 pm to 7:00 pm
Atchley Clock Tower
It's that time again, dig out your costumes and decorations, because Pacific's 14th Annual Safe Trick or Treat is coming to campus on October 24th from 4-7pm!
Pacific's largest community service activity is designed to provide a safe environment for families to enjoy trick or treating. During the event, members of the Pacific community will hand out candy to children as they pass through campus office buildings and residence halls while on guided trick or treating tours. In addition, Pacific's very own clubs and organizations host an outdoor carnival complete with prizes and more candy. Last year, an estimated 4,000 children and adults took part in the trick or treat tours and carnival.
This year's event will take place on Wednesday, October 24th, from 4 p.m. to 7 p.m. The guided tours will begin at the Atchley Clock Tower on South campus and end at the DeRosa University Center lawn where the carnival is being held. All Pacific faculty, staff and students are welcome to bring their families and children to the free event.
For on-campus departments and student groups, if you're interested in hosting a stop, carnival booth or simply volunteering your time, please email safetrickortreat@gmail.com.
Or complete the forms below and email them to safetrickortreat@gmail.com
s3.amazonaws.com/os_extranet_files_t...fe_Trick_or_Treat_Volunteer_Form.pdf
s3.amazonaws.com/os_extranet_files_test/8516_38805_Carnival_Booth_Form.pdf
s3.amazonaws.com/os_extranet_files_test/8516_38806_Tour_Stop_Form.pdf

We hope you will join us for this wonderful event.
For more information, please contact Jennifer Low at safetrickortreat@gmail.com.
Event Type

Sponsoring Department

Tags

Website
Cost

Free and open to the public

Department

Hashtag

Subscribe