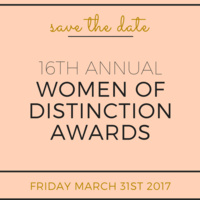 16th Annual Women of Distinction Awards Luncheon
Friday, March 31, 2017 at 11:30 am to 1:00 pm
Grace Covell Hall
720 Presidents Drive, Stockton, CA 95211
The 16th Annual Women of Distinction Awards Luncheon will honor six women from University of the Pacific and local communities for their leadership and dedication to gender equity. Awards are given in the following categories: Undergraduate Student; Graduate Student; Sorority Woman; Staff Member; Faculty Member; and Community Member.
This year's keynote speaker will be writer, educator, and soon-to-be "first lady of Stockton" Anna Nti-Asare! Learn more about Nti-Asare in this recent article in The Record.
The following women will be recognized:
Undergraduate Woman: Shani Boyd, a senior in the School of International Studies. Her major is International Affairs and Commerce, and she is has a minor in Spanish
Graduate Woman: Victoria Smith, is in her final year of the Masters of Music in Music Education program in the Conservatory of Music.
Sorority Woman: Khishigt "Kelly" Manlaibayar, a senior in the School of International Studies; she is an International Affairs and Commerce and Theatre Arts major.
Staff Woman: Deborah Burdick, business manager for the School of Engineering and Computer Science
Faculty Woman: Margaret (Peg) Ciccolella, professor of health, exercise and sport sciences in College of the Pacific
Community Woman: Ronda Sanders, an elementary school teacher for more than 40 years in Stockton Unified, she is the president of the Stockton chapter of the American Association of University Women (AAUW) and 2017 recipient of the Susan B. Anthony Award from the San Joaquin County Commission on the Status of Women.

Tickets on sale now.
Event Type

Sponsoring Department

Website
Cost

$8 for students, $12 for staff, faculty, and community

Group

Subscribe