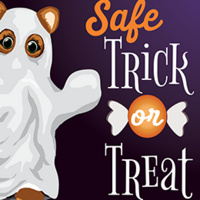 19th Annual Safe Trick or Treat
Wednesday, October 25, 2017 at 4:00 pm to 7:00 pm
Burns Tower and Atchley Clock Tower 3601 Pacific Avenue, Stockton, CA
It's that time of year again! The 19th Annual Safe Trick-or-Treat event is being hosted on the Stockton Campus from 4-7 p.m. The Offices of Student Leadership & Involvement and Residence Life & Housing are partnering to bring this annual favorite to campus again this year.

Pacific's largest community event is designed to provide a safe environment for families to enjoy trick-or-treating. During the event, members of the Pacific community will hand out candy to children ages 3-11 as they pass through campus office buildings and residence halls at sponsored trick-or-treat stops designated by Orange Flags. From there, participants will be invited to a carnival hosted by Pacific's very own student organizations and athletics teams. Last year, an estimated 4,000 children and adults took part in the trick-or-treat tours and carnival.

Trick-or-treat stops will be open at various locations starting at 4 p.m. with information booths located at the Burns Tower and Atchley Clock Tower. A Lost Parent and First Aid Tent will be located at the DeRosa University Center. The carnival will be held on Knoles Lawn and the DeRosa University Center Lawn. All Pacific faculty, staff and students are welcome to bring their families and children to this free event.
A map of stops can be found HERE on the day of the event. Target and Alexander's Furniture are graciously serving as our corporate sponsors this year's Safe Trick-or-Treat.
Sign up HERE to host a Tour Stop or Carnival Booth before Oct. 16 or to volunteer to help before Oct. 18. Volunteers will receive a free T-shirt.
For more information or questions, please email STOT@pacific.edu.
Visit our Facebook event page.
Event Type

Sponsoring Department
Cost

Free

Department

Subscribe