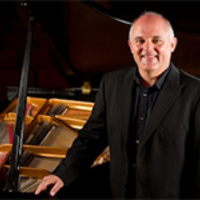 2013 Brubeck Festival Presents The Simon Rowe Trio
Monday, March 18, 2013 at 10:00 pm
Take 5 Jazz Club Valley Brewing Co., 157 W. Adams St., Stockton
Presenting the Simon Rowe Trio with Janiece Jaffe. Rowe, executive director of The Brubeck Institute, is a distinguished educator, entrepreneur, and artist in the jazz field. Besides leading the Simon Rowe Trio, Rowe has played with many greats including Dizzy Gillespie, Dave Leibman, Tim Hagens, John Fedchock, Mulgrew Miller, Jimmy Heath, Stephanie Nakasian, Lucia Newell, Debbie Duncan, Willie Akins, Jeanne Trevor, Bob Mintzer, Luqman Hamza, Marvin Stamm, Dianne Schurr and Claudio Roditi. In his first year as executive director, Rowe established a new Brubeck Degree Track at the University of the Pacific, created an innovative jazz club (Take 5) through a private/public partnership, and is developing local, national and international coalitions to forward the mission of the Institute.
Janiece Jaffe, an improvisational singer has recorded several CDs and been on more than 20 other artists' recordings, will join the Simon Rowe Trio. She also has two CDs for meditation and relaxation, and can be found in Scott Yanow's reference book, "The Jazz Singers: The Ultimate Guide."
Visit the 2013 Brubeck Festival website for a complete listing of events and to buy tickets.
Visit the Brubeck Institute website for more information about its various programs.
Event Type

Website
Cost

$10 general admission; $5 students

Department

Subscribe