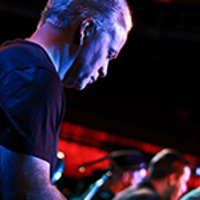 2013 Brubeck Festival Presents Joe Gilman with the Brubeck Institute Jazz Quintet
Saturday, March 23, 2013 at 10:00 pm
Take 5 Jazz Club 157 W. Adams St., Stockton
Joe Gilman, artist-in-residence of the Brubeck Institute's Fellowship Program, is a full-time professor of music at American River College in Sacramento and was the music director of Capital Jazz Project from 1997 to 2011. He has received bachelor's degrees in classical piano and jazz studies at Indiana University, a master's degree in jazz and the contemporary media from the Eastman School of Music, and a doctoral degree in education from the University of Sarasota.
Gilman has been the primary pianist with jazz vibraphonist Bobby Hutcherson since September 2006, and has also performed professionally with Eddie Harris, Woody Shaw, Marlena Shaw, Richie Cole, Joe Locke, George Duke, Chris Botti, Eric Alexander, Anthony Wilson, Nicholas Payton, Russell Malone, David "Fathead" Newman, and Slide Hampton, and has recorded with Joe Henderson, Bobby Hutcherson, Frank Morgan, Jeff Watts, Robert Hurst, Tootie Heath and Larry Grenadier.
Gilman has twice been an International Jazz Ambassador through the Kennedy Center for the Performing Arts and USIA, traveling to West Africa in 1999 and East and Southern Africa in 2000. He will be performing with the Brubeck Institute Jazz Quintet.
They have also performed in jazz clubs such as Yoshi's in Oakland, Herb Alpert's club Vibrato in Los Angeles, Blues Alley in Washington, D.C., the Dakota in Minneapolis, and the Jamboree Jazz Club in Barcelona. They have also performed at the annual conference of the International Association for Jazz Education, and at the First Annual Jazz Education Network conference in St. Louis.
The members of the 2012-2013 Brubeck Institute Jazz Quintet are Rane Roatta, tenor sax, from Miami; Thomas Kelley, alto sax, from Canton, Conn.; Paul Bloom, piano, from Needham, Mass.; Adam Goldman, bass, from Pacific Palisades; Malachi Whitson, drums, from Richmond.
Visit the 2013 Brubeck Festival website for a complete listing of events and to buy tickets.
Visit the Brubeck Institute website for more information about its various programs.
Event Type

Website
Department

Subscribe