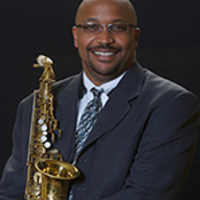 2013 Brubeck Festival Presents Patrick Langham Group
Thursday, March 21, 2013 at 10:00 pm
Take 5 Jazz Club 157 W. Adams St., Stockton
Patrick Langham Group with Janiece Jaffe
Patrick Langham joined the University of the Pacific Conservatory of Music as associate professor and director of Jazz Studies in the Fall of 2003. In 2006, he was awarded tenure and promoted to full professor of music effective Fall 2011. He holds both the bachelor of music with a concentration in jazz studies and the master of music with a concentration in jazz studies from the University of Tennessee at Knoxville. He has taught at the University of South Carolina Upstate in Spartanburg, SC and Tusculum College branch campus in Knoxville, TN.
As a saxophonist and director, Langham has performed with distinguished jazz artists and at numerous jazz festivals throughout the United States. His concert appearances have included performances with Donald Brown, Bob Hurst, Tom Harrell, Essiet Essiet, Billy Kilson, Lewis Nash, Joe Locke, and Jeff "Tain" Watts. He has developed and taught courses in jazz history, theory, and improvisation, and developed a highly successful jazz camp at USC Upstate. In 2006 and 2007, Langham traveled to Barcelona teaching and performing at Taller de Musicas, Escola Superior Music de Catalunya (ESMUC), and Jamboree Jazz Club. Professor Langham has created "Roll Call Records" as an independent label for his debut recording. The 2008 release is titled "Grown Up Listening" and features internationally recognized artists as supporting members.
At Pacific Langham developed and implemented the current Jazz Studies degree program. He directs the Pacific Jazz Ensemble, the jazz combos, teaches courses in improvisation, jazz history and theory, and works closely with and teaches in the Brubeck Institute Fellows program, the Brubeck Institute Summer Jazz Colony, the Brubeck Institute Jazz Camp, and the Pacific Music Camps.
His Group will be joined by Janiece Jaffe.
Visit the 2013 Brubeck Festival website for a complete listing of events and to buy tickets.
Visit the Brubeck Institute website for more information about its various programs.
Cost

$10 general admission; $5 students

Department

Subscribe