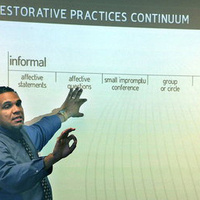 2013 Diversity Retreat "Restoring and Strengthening Our Community"
Friday, September 20, 2013 at 8:00 am to 4:30 pm
Grace Covell Hall
720 Presidents Drive, Stockton, CA 95211
The University community is invited to come together for Pacific's 2013 Diversity Retreat featuring keynote speaker Steve Korr from the International Institute for Restorative Practices (www.iirp.edu). The full-day event includes a series of workshops and discussion sessions that will provide practical applications and information as well as a forum to engage in dialogue that will not only inform how we advance diversity and inclusion, but also how we pursue related Pacific 2020 goals.
Come and find out about diversity – how we define it and what initiatives are currently happening at Pacific, learn about opportunities to get involved and make a difference, as well as obtain resources and strategies for making the classroom and the entire campus more inclusive.
Attend any or all sessions as your schedule permits.
Schedule
8:00-8:30 AM Welcome and lite Breakfast
8:30-10:00 AM Concurrent Workshop Series I
Introduction to diversity at Pacific (Tiger Lounge)
Incorporating intercultural theory and practice into your curriculum (Grace Covell Hall)
10:00-11:30 AM Concurrent Workshop Series II
Understanding Social Justice (Tiger Lounge)
Safe Zone Program (Grace Covell Hall)
11:30-11:45 AM Break
12 Noon-1:30 PM Working Lunch
Featuring a keynote presentation by Steve Korr from the International Institute for Restorative Practices and remarks by President Pamela A. Eibeck.
1:30 – 3:00 PM Inclusive Classroom Practices
A panel discussion regarding strategies for making the classroom a more welcoming learning environment
3:00 – 4:30 PM Pacific Campus Caucus – Faculty, Staff and Student Voices
Opportunity for the Pacific community to engage in dialogue and share perspectives on issues related to diversity, inclusion and campus climate.
The Diversity Retreat consponsors include the Pacific Arts and Lectures Committee, Office of the President, Office of the Provost, Division of Student Life, the University Diversity Commitee, the Bias Response Team.
For more information, email diversity@pacific.edu.
Event Type

Sponsoring Department
Cost

Free

Department

Subscribe