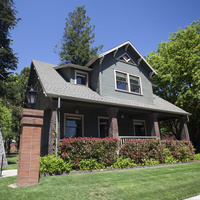 2nd Annual Miguel Huitzil Immigrant Rights Reception
Saturday, October 14, 2017 at 3:00 pm to 5:00 pm
McGeorge House
3201 Donner Way, Sacramento, CA 95817
Following the 9th Annual McGeorge Citizenship Fair, McGeorge School of Law will host the 2nd Annual Reception in honor of the life and social justice contributions of Miguel Huitzil. Huitzil was instrumental in McGeorge's annual Citizenship Fair. Proceeds from this event will go to support the Miguel Huitzil Immigrant Rights Summer Fellowship allowing McGeorge students the opportunity to create their public interest immigration law dream job at a nonprofit and receive a stipend to assist with living expenses.
Registration includes hors d'oeuvres and beverages. Tickets are $50 per Guest | $25 per Student.
Purchase your tickets online via CashNet (click here), or at the Development Office, on the second floor of the Dean's Office Building between Northwest Hall and the Student Center.
Questions? Please contact the McGeorge Development Office at 916.739.7300 or mcgeorgedevelopment@pacific.edu.
Event Type

Sponsoring Department
Cost

Tickets are $50 per Guest, $25 per Student

Department

Subscribe