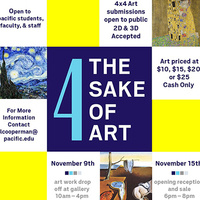 4X4 Art Exhibit
Friday, December 7, 2018 at 9:00 am to 4:00 pm
Reynolds Art Gallery
1071 W Mendocino Ave, Stockton, CA 95204
The Pacific Student Art Club presents, 4 x 4 exhibition and sale, opening Thursday, Nov. 15, and on view through Friday, Dec. 7. Please join us for an artists's reception and art sale Thursday, Dec. 6 from 6-8 p.m. This gallery event is free and open to the public.
Confined to four by four inches, works will include drawings, prints, paintings and sculpture that represent the creativity imposed by limitation. All work will be for sale in increments of $10, $15, $20 or $25 dollars, with $5 dollars of each sale going to the Pacific Student Art Club.
Exhibition Dates and Gallery Hours:
Nov. 15 – Dec. 7, 2018
Monday – Friday, 9:00 a.m. – 4:30 p.m.
Due to poor air quality, the Gallery is closed Nov. 15-16, 19-20,
Artists Reception and Art Sale:
Dec. 6, 6-8 p.m.
Event Type

Sponsoring Department

Audience

Website
Department

Subscribe