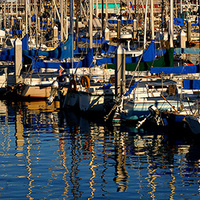 52nd Annual Colonel Allyn D. Burke Memorial Dental Symposium
Saturday, June 24, 2017 at 8:30 am to 4:30 am
Monterey, CA
The registration deadline is Tuesday, June 20 at 5:00 pm. Due to military regulations, no registrations will not be accepted after this date, including on-site registrations.
The Arthur A. Dugoni School of Dentistry is proud to sponsor the 52nd Annual Colonel Allyn D. Burke Memorial Dental Symposium. Named in honor of Colonel Allyn D. Burke, a graduate of the College of Physicians and Surgeons (now the Arthur A. Dugoni School of Dentistry), this annual dental symposium continues to showcase excellence in continuing dental education and continues to honor the long-standing affiliation between military and non-military dental professionals throughout the United States.
DAY 1 – FRIDAY, JUNE 23
Tooth Preserving Dentistry
Richard A. Young, DDS
This course will review some of the techniques, materials and key research about tooth preservation and give you an introduction on how to perform advanced adhesion dentistry simply in your office on a daily basis. With the advanced adhesion techniques available today, supported by an overwhelming amount of published science, it is now possible to mimic the bond strength of the dentino-enamel junction (DEJ) with certain techniques and materials.
A Simplified Guide to Clinical Digital Photography: Indispensable Tools and Techniques
Richard A. Young, DDS
Digital dental photography is fast becoming an integral part of many dental practices today. This lecture will discuss the art and beauty of simplified dental photography and the equipment you need to make it happen. A simplified portrait system will be presented as well to help you add or perfect this important adjunct to your practice.
Richard A. Young, DDS, is an assistant professor of restorative dentistry at Loma Linda University, School of Dentistry where he directs as well as lectures in the undergraduate dental aesthetics program. He lectures on minimally invasive, advanced adhesion dentistry and is recognized worldwide for his expertise in digital photography. Dr. Young's innovative and practical methods have inspired countless colleagues to adopt digital photography in their practices. He maintains a private practice with his wife focusing on aesthetic dentistry.
DAY 2 – SATURDAY, JUNE 24
Does TMD Stand for "Too Many Disappointments?"
Andrew Young, DDS, MSD
Treating temporomandibular disorders (TMD) can be disappointing, often because of the apparent complexity of diagnosing and the myriad of opinions on treatment approaches. This lecture will simplify the diagnostics of TMD to a level that will efficiently serve most of the TMD cases you see. We will then teach you how to hone in on causes for each individual patient. Instruction in safe and conservative treatments will follow. Clinical cases will be used as examples to help you apply your knowledge.
Andrew Young, DDS, MSD, is director of the Pacific Center for Orofacial Disorders where he manages patients with TMD and neuropathic pain and directs the orofacial pain curriculum at the Dugoni School of Dentistry. He received an MSD in orofacial pain from University of Medicine and Dentistry of New Jersey and is board certified with the American Board of Orofacial Pain. He is a fellow of the American Academy of Orofacial Pain and has published several studies in peer-reviewed journals.
Removable Partial Dentures
Mark A. Dellinges, DDS, MA
Despite advances in modern dentistry, an increasing number of patients will continue to require removable partial denture services. These cases continue to present problems for general dentists. This lecture will provide you with the current techniques for the construction of functional and aesthetic removable partial dentures. It will help you meet the challenge of providing predictable partial dentures in a timely manner and raise your confidence level and improve your skills for dealing with your own removable partial denture cases.
Mark A. Dellinges, DDS, MA, is a clinical professor in the Department of Preventive and Restorative Dental Sciences at UCSF School of Dentistry. He is a diplomate of the American Board of Prosthodontics and an internationally renowned speaker. He is the recipient of numerous teaching awards from UCSF. He also completed the ADEA Leadership program and UCSF's Teaching Scholars program, and received a master's degree in education from UC Berkeley.
Who Should Attend
This symposium is designed for dentists and all members of the dental team.
Tuition: $425 Dentists; $225 Allied Dental Professionals (includes lunch and continental breakfast each day)
Program: 8:30 am – 4:30 pm
Check-in: 7:30 am – 8:30 am Friday (pre-registration required)*
Location: Naval Postgraduate School, Monterey, CA
Credits: This activity is designated for 14 units of continuing education credit.
*This program will be held at the Naval Postgraduate School, a U.S. military installation. You must register in advance. Due to military regulations, on-site registrations will not be accepted. No registrations will be accepted after Tuesday, June 20, 2017.