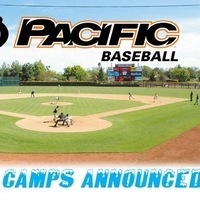 Pacific Winter Baseball Prospect Camp
Friday, December 28, 2018
Klein Family Field
Klein Family Field, Larry Heller Drive, University of the Pacific, Stockton, CA 95204
This camp is a unique opportunity for prospective college baseball players to be seen closely by our coaching staff here at Pacific. Every player will get individualized quality instruction in order to improve their game and get their game to the next level. The coaching staff will cover all aspects of the game during the first day of the camp. During the first day of the camp, players will get a taste for what daily practice life is like here at Pacific. The second day of the camp will allow the players to showcase their talent in a game atmosphere.
Dates: Dec. 27-28
Cost: $199
Location: Klein Family Field
Players must provide their own equipment
For more information or to sign up for any of the camps, please see the link at right.
For questions, please contact Mike Reuvekamp email: mreuvekamp@pacific.edu phone: 209.946.2163
Event Type

Sponsoring Department

Audience

Website
Department

Subscribe