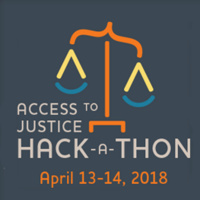 Access to Justice Hackathon
Friday, April 13 at 3:00 pm
Gordon D. Schaber Law Library, McGeorge School of Law
3282 Fifth Ave. Sacramento, Calif.
Are you passionate about immigration, homelessness, and elder health issues? Do you want to help create the next great solution?
Join the Access to Justice Hackathon at University of the Pacific's Sacramento Campus on April 13-14, 2018! The event runs from 3 p.m. on Friday, April 13 and concludes with an announcement of the winners at 1 p.m. on Saturday, April 14.
Hosted by the McGeorge School of Law and University of the Pacific School of Engineering and Computer Science. This is University of the Pacific's first hackathon.
The goal is to create technical solutions that improve access to justice for the community in the areas of immigration, homelessness and elder health. The top three solutions that improve access and drive innovation win cash prizes.
Attendees do not need legal experience.
Pacific law faculty and students will be present. Your development and creative skills are needed. Learn more at PacificHackathon2018.devpost.com today!
Participants need to register online here. Cost is $15 general admission; $10 Pacific students and includes dinner, breakfast, lunch, snacks and a T-shirt. Teams must register on or before March 31.
Event Type

Sponsoring Department

Website
Cost

$15 general admission; $10 Pacific students

Hashtag

Subscribe