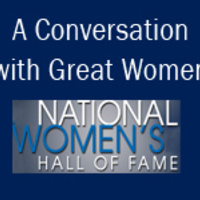 A Conversation with Great Women
Friday, April 4, 2014 at 3:00 pm to 4:30 pm
Pacific McGeorge School of Law, McGeorge Lecture Hall
3200 Fifth Ave., Sacramento, CA
The National Women's Hall of Fame, in collaboration with the McGeorge School of Law, presents this very special evening with Hall of Fame Inductees Dr. Sylvea Earle, Oceanographer and Conservationist, and Dr. Judy Pipher, Infrared Astronomer.
Dr. Maria Pallavicini, Provost of University of the Pacific, will be a panelist. Moderated by the Hon. Allison Claire, United States Magistrate Judge, Eastern District of California, this discussion is a celebration of innovation, creativity and leadership of American women.
The National Women's Hall of Fame is located in Seneca Falls, NY, the birthplace of the women's rights movement in the United States. Founded in 1969, the National Women's Hall of Fame is the nation's oldest membership organization dedicated to recognizing and celebrating the achievements of great American women. This esteemed group grows with each Induction Ceremony and as women continue to influence and shape the arts, athletics, business, education, government, humanities, philanthropy and science.
The free event will be followed by a ticketed reception from 5 p.m. - 7 p.m on the Pacific McGeorge House Patio
Students & NWHF Members: $20 | General Admission: $45
Proceeds benefit the National Women's Hall of Fame. Become a member today! Visit www.greatwomen.org/become-a-member.
RSVP to Annette Bethea for Reception Email: abethea@pacific.edu Phone: 916.739.7160916.739.7160916.739.7160916.739.7160
This event is coordinated in conjunction with Women's History Month
Event Type

Sponsoring Department
Cost

Newsletter 3, Free and open to the public

Department

Subscribe