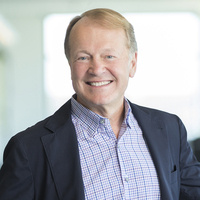 "A Digital World: Country Digitization" with Cisco's John Chambers
Wednesday, September 20, 2017 at 5:00 pm to 6:15 pm
Don & Karen DeRosa University Center, Ballroom
901 Presidents Dr, Stockton, CA 95211
John Chambers, the iconic former CEO and current executive chairman of the board of Cisco Systems, will give an important and timely talk on "A Digital World" about country digitization, the current global technology transition, and how it is changing the global agenda.
Country Digital Acceleration Strategy is a long-term partnership with national leadership, industry and academia. By accelerating the national digitization agenda, countries will grow GDP, create new jobs and provide innovation and education across public and private sectors.
"John Chambers is a Silicon Valley legend, leading Cisco to become one of the most powerful technology companies in the world. Beyond that, he's a compassionate leader who developed an amazing employee culture at Cisco."
~ Kim Austin '90 COP, Senior Marketing Manager at Cisco
Hear more about the impact of accelerated digitzation in this video: John Chambers: Country Digitization Acceleration In France. France, the first country partner to implement accelerated digitization, acknowledged its impact by awarding Chambers the National Defense Gold Medal. Chambers is the only foreign business leader to receive the award in its 35-year history.
About John Chambers
As executive chairman of the Board at Cisco, John Chambers is a working chairman with a focus on country digitization and building relationships with government and business leaders, shareholders and board members. He is also an advisor on the company's strategy, digital transformation and strategic partnerships.
Chambers joined Cisco in 1991, became President and CEO in 1995, and served as Chairman and CEO from 2006–2015. He helped grow the company from $70 million when he joined, to $1.2 billion when he assumed the role of CEO, to $47 billion when he stepped down as CEO.
He has received numerous awards for his leadership at Cisco, including Time Magazine's "100 Most Influential People," the "Best Boss in America" by 20/20, and "CEO of the Year" by Chief Executive Magazine.
Event Type

Sponsoring Department
Cost

Free and open to the public

Department

Subscribe