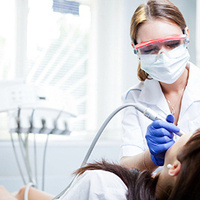 Adult Oral Conscious Sedation Review
Saturday, January 20 at 9:00 am to 5:00 pm
Arthur A. Dugoni School of Dentistry
155 Fifth Street, San Francisco, CA 94103
Oral sedation of adult patients in the dental office must be done safely while setting and meeting the patients' expectations. This course will serve as an update primarily for those who already have a Dental Board of California (DBC) oral conscious sedation certificate for adult patients. The course will fulfill the DBC requirement for seven units of continuing education for renewal every two years. The course will also cover the state rules and regulations with regard to deeper sedation. Finally, the course will review sedation emergencies including airway management.
You Will Learn
The history of pain and pain control
Principles about pain and fear
An update on oral sedative drugs
How to use the drugs in a culture of safety
What is necessary to provide deeper sedation
How to manage sedation emergencies including airway management
Who Should Attend
This program is intended for those who currently hold oral conscious sedation certificates for adult patients to meet renewal requirements.
Tuition: $285 Dentists; $195 Allied Dental Professionals (includes lunch and coffee/tea service in the morning)
Program: 9:00 am – 5:00 pm
Check-in: 8:30 am
Location: Arthur A. Dugoni School of Dentistry, 155 Fifth Street, SF
Credits: This activity is designated for 7 units of continuing education credit.
Faculty
Anders Nattestad, PhD, DDS, is a professor, co-chair of Department of Oral and Maxillofacial Surgery, director of the undergraduate Oral and Maxillofacial Surgery program and director of the Implant Surgery program at the Dugoni School of Dentistry. He has published more than 60 peer-reviewed articles and has presented at numerous conferences, both nationally and internationally. He has served as secretary general for the Association for Dental Education in Europe for five years.