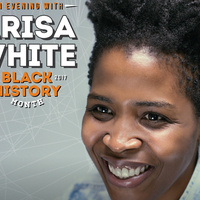 An Evening with Arisa White – Poetry Reading
Poet Arisa White will host a poetry reading. A reception will be held at 6:30 PM at WPC 140. The reading will take place after the recpetion at the same location. This event is open and free to the public.
Arisa White is a Cave Canem fellow, Sarah Lawrence College alumna, an MFA graduate from the University of Massachusetts, Amherst, and author of the poetry chapbooks Disposition for Shininess, Post Pardon, and Black Pearl. One of the founding editors for HER KIND, an online literary community powered by VIDA, she is a former Kore Biters' columnist at Kore Press. A native New Yorker, living in Oakland, California, Arisa is a faculty advisor in the low-residency BFA Creative Writing Program at Goddar College and was a visiting scholar at San Francisco State University's The Poetry Center, where she developed a digital special collections on Black Women Poets in The Poetry Center Archives. Spring 2017, she is the distinguished visiting poet in residence at Saint Mary's College of California. Published by Virtual Artists Collective, her debut collection, Hurrah's Nest, was a finalist for the 2013 Wheatley Book Awards, 82nd California Book Awards, and nominated for a 44th NAACP Image Awards. Her second collection, A Penny Saved, inspired by the true-life story of Polly Mitchell, was published by Willow Books, an imprint of Aquarius Press in 2012. Her newest collection You're the Most Beautiful Thing That Happened was published by Augury Books.
Thursday, February 23 at 6:30 pm to 8:00 pm
Wendell Phillips Center (WPC)
1000-1070 W Stadium Dr, University of the Pacific, Stockton, CA 95204