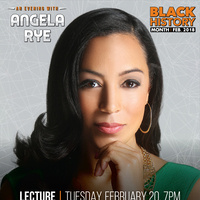 An Evening with Angela Rye
Tuesday, February 20, 2018 at 6:45 pm to 9:30 pm
Faye Spanos Concert Hall
3511 Pacific Ave, Stockton, CA 95204
Acclaimed CNN political commentator, Principal and CEO of IMPACT Strategies, and NPR political analyst Angela Rye is the Keynote Speaker for the 2018 Black History Month Celebration at University of the Pacific in Stockton, CA. She will present a lecture at the Faye Spanos Concert Hall on Feb. 20, 2018, 7 p.m.
The lecture is free and open to the public. Everyone who attends the event must have a ticket. The tickets are free and available (limit 2 per person) at the DeRosa University Center until 6:30 p.m Feb. 20. Any remaining tickets will be available at the door after 6:30 p.m. (Pacific students must show a valid Pacific ID when picking up tickets.) Please direct any questions about ticket availability, etc. to mpratt@pacific.edu
About Angela Rye
Named after scholar and activist Angela Davis, Rye is similarly outspoken and unapologetically candid with her commentary on the key civil rights issues that impact our communities. Rye learned the importance of advocacy through her family's political and community activism. Born and raised in Seattle, Rye earned her Bachelor's degree from University of Washington and her J.D. from Seattle University School of Law. Her career achievements include serving as the Executive Director and General Counsel to the Congressional Black Caucus (CBC) for the 112th Congress. Prior to working for CBC, she served as Senior Advisor and Counsel to the House Committee on Homeland Security under the leadership of Congressman Bennie G. Thompson.
Upon moving to the Nation's Capital, she co-founded IMPACT Strategies, a non-profit organization that seeks to encourage young professionals in three core areas: economic empowerment, civic engagement, and political involvement. She is a member of the National Bar Association, American Bar Association and The Links, Inc.
Rye strives to engage and empower leaders to leverage their positions of influence to build powerful coalitions and change the world together as global citizens. While she has strong opinions, she embraces opportunities to engage with those who have different views and backgrounds from her own. She hosts her own podcast, "On 1 with Angela Rye," where she discusses political, racial and pop culture questions of the day.
In 2015, Rye earned a spot on Fortune Magazine's "40 Under 40 Women to Watch." In 2017, she was named to the Root 100 list of "Most Influential African Americans."
Event Type

Sponsoring Department
Cost

Free tickets available at the DeRosa University Center

Group

Subscribe