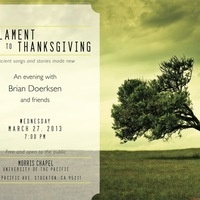 From Lament to Thanksgiving: Ancient Songs and Stories Made New
Wednesday, March 27, 2013 at 7:00 pm
Morris Chapel
620 Chapel Ln, Stockton, CA 95211
An evening during Passover and Lent with Brian Doerksen, Joel Lohr, and Dorothy M. Peters
During the Jewish Passover week,
We remember our slavery and celebrate our freedom.
During the Christian season of Lent
We await the deliverance that Easter will bring.

In the meantime,
We sing our songs and tell our stories.
Please join us for an evening of songs and psalms inspired by the biblical Psalms and Prophets, songs of ...

Lament and thanksgiving
Protest and deliverance
Repentance and praise
Stories old and new from Ancient Israel, the Jewish Dead Sea Scrolls and the life of Jesus, and from our experiences with God.
Event Type

Sponsoring Department