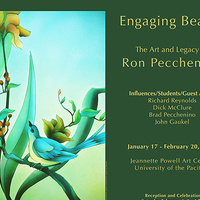 Art Exhibit: Engaging Beauty: The Art and Legacy of Ron Pecchenino
Monday, February 20, 2017 at 9:00 am to 4:00 pm
Reynolds Art Gallery
1071 W Mendocino Ave, Stockton, CA 95204
The art exhibition Engaging Beauty: Art and Legacy of Ron Pecchenino will be on display from Jan. 17 through Feb. 20, in the Richard and Marjorie Reynolds Gallery.
The Art Department will host a reception on Saturday, Feb. 4 from 2 to 4 p.m. in the Reynolds Gallery. The exhibit and the reception are free and open to the public.
This memorial exhibit brings together examples the late Ron Pecchenino's long and productive career as an artist and artistic mentor. Paintings by Pecchenino selected from regional private collections will be on view in this exhibition curated by his family, friends and former colleagues.
Also on display will be the works of his influences, students and protégés Richard Reynolds, Dick McClure, Brad Pecchenino and John Gaukel.
A nationally recognized artist, Pecchenino worked in a variety of media and was best known for his watercolors and for a unique lacquer inlay technique. He completed numerous commissions for both private businesses and public organizations. Photographs of his public murals are also included in the exhibit, most notably the 10-ft. by 20-ft. "Golden Gateway to Manteca" at 213 W. Yosemite Ave. in downtown Manteca.
A native of California and raised in the San Joaquin Valley, Pecchenino graduated from the University of the Pacific with a B.A. Art in 1956. He went on to earn his Master of Fine Arts degree at the California College of Arts and Crafts in Oakland. An art educator for more than 40 years, the late professor was chairperson of Pacific's Department of Art a total of 10 years (1983-­1991 and 1993-1995).
An outstanding, engaging professor and effective mentor and role model to junior faculty, he led a restructuring of the art department's instructional programs, brought computer technology into the art curriculum, initiated the Bachelor of Fine Arts in Graphic Design degree program and worked to obtain Pacific's first full accreditation for professional degrees in studio art and graphic design from the National Association of Schools of Art and Design. In 1992, he was recognized for his teaching and scholarship with Pacific's Distinguished Faculty Award. At his retirement in January 1996, he was awarded the Order of Pacific, the University's highest honor.
While he explored a diverse range of subject matter, nature--particularly the California landscape-­‐was his touchstone. "Having lived in the valley for over sixty years, its great versatility and wondrous beauty has ever been a source of inspiration."
The Reynolds Gallery is located in the Jeannette Powell Art Center and the Department of Art and Graphic Design, 1071 Mendocino Avenue 96211.
Gallery Hours:
Monday - Friday, 9:00 am - 4:30 p.m.

Reception:
Saturday, February 4, 2:00 - 4:00 p.m.

Event Type

Sponsoring Department
Cost

free and open to the public

Department

Subscribe