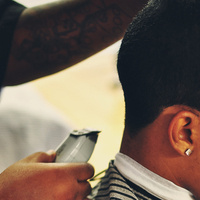 Black Barbershop Health Outreach Program - Stockton
Saturday, May 12, 2012 at 11:00 am to 4:00 pm
338 E. Lafayette St. Stockton, CA 95203; 345 N California St. Stockton, CA 95202; 936 N Yosemite St. Stockton, CA 95203
Pacific pharmacy students from the Thomas J. Long School of Pharmacy and Health Sciences have partnered with the Black Barbershop Health Outreach Program to take part in what surely will be a historic event. During this state-wide initiative, more than 100 barbershops all the way from San Diego up to Sacramento will be providing customers with FREE health screenings for high blood pressure and diabetes. More importantly, those screened with abnormal results will qualify for a FREE follow-up visit with local physician Dr. Kwabena Adubofour at the East Main Clinic & Diabetes Intervention Center in Stockton. There will be a total of three local barbershops in the Stockton area participating in this year's event.
The Stockton events will be held at the following barber shops:
Tru Barber Styles; 338 E. Lafayette St.
Dudes and Divas; 345 N. California St.
Bay Kutz; 936 N. Yosemite St.
Event Type

Website
Cost

Free and open to the campus community

Department

Hashtag

Subscribe