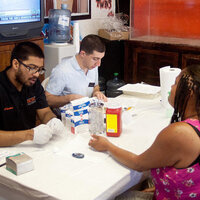 Black Barbershop Health Outreach Program
Saturday, February 8, 2014 at 12:00 pm to 4:00 pm
Members of the Stockton community can receive free screenings for blood pressure, cholesterol and diabetes during the annual Black Barbershop Health Outreach Program, hosted by the University of the Pacific Thomas J. Long School of Pharmacy and Health Sciences. The event will be held Saturday, Feb. 9 from noon to 4 p.m.
The program is part of a national outreach effort designed to bring awareness to the African American community about how important it is to obtain regular screenings for blood pressure, cholesterol and diabetes. Those three illnesses have been identified as the leading causes of death in African Americans.
According to the American Diabetes Association, "3.7 million African Americans aged 20 years or older have diabetes. African Americans are 1.8 times more likely to have diabetes as non-Hispanic whites." According to the Center for Disease Control, "African American men suffer from high blood pressure, a known risk factor for heart disease and stroke."
This year's Black Barbershop screenings will be held at the following locations:
Binder Barbershop
526 E. Weber Street
Stockton, CA 95202

Frontline Barbershop and Saloon
517 Martin Luther King Blvd
Stockton CA 95206

Tru Barber Styles
8037 West Lane Suite A
Stockton CA 95219
The event is free and all are welcome to participate.
Event Type

Sponsoring Department
Department

Hashtag

Subscribe