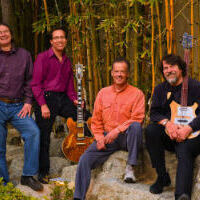 The Brubeck Tribute Concert featuring Russell Gloyd with the San Francisco Choral Artists and the Brubeck Brothers Quartet
The Brubeck Brothers Quartet is an exciting jazz group featuring two members of one of America's most accomplished musical families, Dan Brubeck (drums,) and Chris Brubeck (bass & trombone) Guitarist Mike DeMicco, and pianist Chuck Lamb, complete this dynamic quartet. They have performed at concert series, colleges, and jazz festivals across North America and Europe including the Newport, Detroit, Ravinia, Las Vegas, Sedona, Spokane & Monterey Jazz Festivals.
The Quartet will be joined by Russell Gloyd and the San Francisco Choral Artists for this fine tribute to Dave Brubeck.
View the full festival schedule
Saturday, March 23, 2013 at 7:30 pm
Faye Spanos Concert Hall
3511 Pacific Ave, Stockton, CA 95204
Event Type
Cost

Department

Hashtag

Subscribe