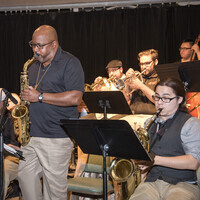 Brubeck Summer Jazz Colony Jams
Thursday, August 9, 2018 at 7:00 pm to 9:00 pm
Take 5 Jazz Club
157 W Adams Street Stockton CA 95204
Pacific's Brubeck Institute invites the community to Take 5 Jazz At The Brew for a series of jazz jam sessions featuring students, faculty and guest artists from the Brubeck Summer Jazz Colony. The jam sessions will take place at 7 pm on Aug 5, Aug. 6, Aug. 7 and Aug. 9. (There is no jam session on Aug. 8) Admission is free.
The final concert featuring faculty and students will take place at Faye Spanos Concert Hall on Aug. 10.
The Summer Jazz Colony organized by Pacific Brubeck Jazz Institute is a one-week, intensive program in jazz performance for a limited number of exceptionally talented students from throughout the United States and beyond. Some of the most outstanding jazz artists of the day join Pacific jazz professors on the faculty for a dynamic week of learning and performance.
Event Type

Sponsoring Department

Audience

Website
Cost

Free

Department

Hashtag

Subscribe