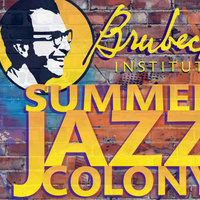 Brubeck Summer Jazz Colony Concert
The closing concert of the Brubeck Institute's Summer Jazz Colony features great jazz performances by faculty/artists and colonists.
The Jazz Colony is a one-week, intensive educational program in jazz performance for 18 of the most talented high school musicians in the United States who have just completed their freshman, sophomore, or junior years. They come from throughout the United States and beyond to study with Brubeck Institute faculty, guest artists and master teachers, in combo rehearsals, master classes and private instruction, classes in jazz theory and advanced jazz improvisation, and seminars on the music of Dave Brubeck and other topics. Colonists have extensive opportunities to visit with the artists and clinicians, visit the Brubeck Collection, participate in numerous jam sessions, and perform in concert.
Participating Faculty:
Joe Gilman
Willie Akins
Willem von Hombracht
Montez Coleman
Wayne Wallace
Patrick Langham
Joe Mazzaferro
Brian Kendrick
Chad Lefkowitz Brown
Malachi Whitson
Nick Fryer
Simon Rowe
This year's students:
Jalon Archie
Max Boiko
Simone Boszormenyi
Sean Britt
Grant Cherry
Jeremy Corren
Cole Davis
Jeremy Dorsey
Maximilian Gerl
Sam Hart
Daryl Johns
Blake Manternach
Michael Mitchell
Elena Pinderhughes
Timothy Rachbach
Quinn Sengupta
Nathan Sparks
Jyron Walls
For more information, call 209.946.3196
Friday, August 10, 2012 at 5:30 pm to 7:30 pm
Faye Spanos Concert Hall
3511 Pacific Ave, Stockton, CA 95204
Event Type

Sponsoring Department
Cost

Department

Hashtag

Subscribe