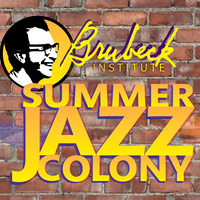 Brubeck Summer Jazz Colony Closing Concert
Friday, August 11, 2017 at 5:30 pm to 7:30 pm
Faye Spanos Concert Hall
3511 Pacific Ave, Stockton, CA 95204
Join us for our 2017 Brubeck Summer Jazz Colony closing concert featuring our Brubeck Summer Jazz Colonists and Guest Artists.
Twenty-three talented young musicians will arrive at University of the Pacific Sunday, Aug. 6 to begin intensive jazz training at the the Institute's 15th annual Jazz Colony. Among them are two female colonists and five international students attending for the fourth year through a partnership with Britain's National Youth Jazz Orchestra and Australia's Western Australian Youth Jazz Orchestra.
They will be learning from outstanding guest artists, including pianist Helen Sung, drummer Lewis Nash, pianist and composer Donald Brown and multi-instrumentalist Steve Wilson, along with the UK's Mark Armstrong, artistic director for the National Youth Jazz Orchestra. Also joining the 2017 faculty are former Brubeck Institute Jazz Fellows bassist Chris Smith and guitarist Sean Britt.
Don't miss this amazing concert where colonists and guest artists come together for a final night of outstanding jazz performance.
Event Type

Sponsoring Department

Website
Cost

$0

Department

Subscribe