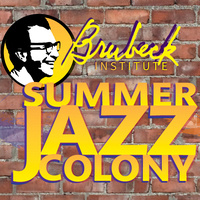 Brubeck Summer Jazz Colony Nightly Jam Sessions
Thursday, August 10, 2017 at 7:00 pm to 9:00 pm
Valley Brewing Company, Take 5 Jazz Club
157 W Adams Street Stockton CA 95204
Join us nightly for free jam sessions featuring our 2017 Brubeck Summer Jazz Colonists and Guest Artists.
Twenty-three talented young musicians will arrive at University of the Pacific Sunday, Aug. 6 to begin intensive jazz training at the 2017 jazz colony, now in its 15th year. Among them are two female colonists and five international students attending for the fourth year through a partnership with Britain's National Youth Jazz Orchestra and Australia's Western Australian Youth Jazz Orchestra.
They will be learning from outstanding guest artists, including Helen Sung, Lewis Nash, Donald Brown and Steve Wilson, along with the UK's Mark Armstrong. Also joining the 2017 faculty are former Brubeck Institute Jazz Fellows Chris Smith and Sean Britt.
Each night except Wednesday selected colonists and guest artists will perform at the Take 5 Jazz Club. Enjoy amazing jazz each night during this special week.
Event Type

Sponsoring Department

Website
Cost

Free

Department

Subscribe