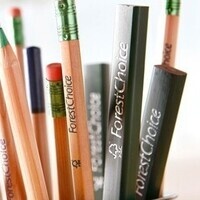 Cal Cedar Career Info Session
Thursday, October 12, 2017 at 5:30 pm
McCaffrey Center, Career Resource Center Conference Room
620 Chapel Ln, Stockton, CA, 95211
California Cedar Products Company, featuring Blackwing Pencils, will be at Pacific to talk about their company and some of the exciting projects, internships and career opportunities they have available!

California Cedar Products Company is the world's leading independent supplier of wooden slats for the production of wood-cased pencils. Their Blackwing 602 pencil has been used by legendary Grammy, Emmy, Pulitzer and Academy Award winners. Known users includes John Steinbeck, Stephen Sondheim, Leonard Bernstein and Chuck Jones who proudly used Blackwings to create Bugs Bunny and many other Looney Tunes characters.

With a commitment to the environment and a passion for the arts, CalCedar is a family owned business looking to hire Pacific students from a variety of majors including those in liberal arts.
Event Type

Sponsoring Department
Cost

Free

Department

Hashtag

Subscribe