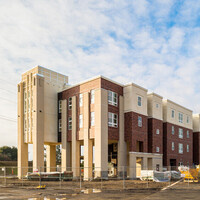 Calaveras Hall Ribbon-cutting Ceremony and Reception
Thursday, August 9, 2018 at 9:00 am to 10:00 am
Calaveras Hall, eastside promenade, adjacent to Wood Bridge 1114 Brookside Road, Stockton, CA 95211
University of the Pacific is pleased to announce the opening of Calaveras Hall, its newest residential building. Members of the Pacific community on all three campuses are invited to celebrate at a ribbon-cutting ceremony and reception.
The new Calaveras Hall is on the north side of the Calaveras River, adjacent to the Wood Memorial Bridge.
Join us for short remarks, ribbon-cutting and guided tours of the facility followed by refreshments.
Event Type

Sponsoring Department

Audience
Cost

No Cost

Department

Hashtag

Subscribe