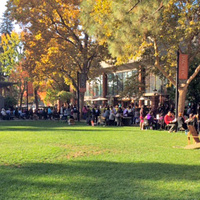 Citizenship Fair
Saturday, October 14, 2017 at 9:30 am to 1:00 pm
Gary V. Schaber Memorial Student Center, Sacramento Campus
3141 Donner Way, Sacramento, CA 95817
Free Immigration Fair
Saturday, October 14, 2017
9:30 am
McGeorge Student Center
3200 Fifth Avenue
Sacramento, CA 95817
CLICK HERE FOR MORE INFORMATION
RESERVATIONS REQUIRED - 916.340.6080 or clsmcg@pacific.edu

Receive Free Legal Help Completing and Filing Your Naturalization Application (N-400 and N-600)
Receive Free Help with the Fee Waiver to Apply for Naturalization, If You Qualify
Receive Study Materials for Civics and English Tests
With Citizenship:
You can vote!
You could bring your children and spouse more quickly to the U.S. and sponsor your parents, brothers, sisters and married children!
You may choose to apple for government jobs!
You will gain more security to stay in the country!
You will access greater economic rights, potentially including healthcare!
Sponsoring Department
Cost

Free - Reservation Required

Subscribe