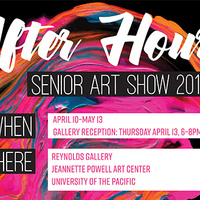 Class of 2017 Senior Exhibition: After Hours
Friday, May 12, 2017 at 9:00 am to 4:30 pm
Reynolds Gallery
The Department of Art & Graphic Design graduating class of 2017 presents, After Hours an exhibition of their art and design works in the Reynolds Gallery, opening April 10 and on view through May 13, 2017.
Please join us in the gallery, Thursday, April 13 at 6:00 p.m. for a reception and celebration of these young artists.

This event is free and open to the public.
Featured artists:
Andrew Ciminelli
Kristina Davis
Kirsten Doting
Christopher Dutra
Patrick Klunk
Kellie Macauley
Synclaire Moffatt
Kaila Munson
Claudia Ortiz
Binaypreet Singh
Joe Soto Jr.
Jia (Vicky) Wang
Anneka Weinert
Ray Wong
Exhibition Dates and Gallery Hours:
April 10 - May 13, 2017
Monday - Friday, 9:00 a.m. - 4:30 p.m.

Reception:
Thursday, April 13, 6:00 - 8:00 p.m.


Event Type

Sponsoring Department

Website
Subscribe