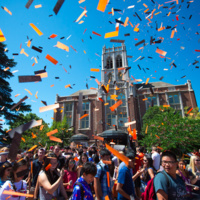 New Student Convocation 2018
Saturday, August 25, 2018 at 11:00 am to 2:00 pm
Faye Spanos Concert Hall
3511 Pacific Ave, Stockton, CA 95204
New Student Convocation from 11 a.m. to noon, followed by the Tiger Roar and All-Campus Welcome Barbecue, is a capstone event that has become a tradition at University of the Pacific to welcome incoming students. The event has great significance for our new students as they make the transition to college life at Pacific.
Immediately following New Student Convocation ceremony, students, faculty, staff and alumni come together to welcome all new students with the traditional Tiger Roar. It's a Pacific tradition you won't want to miss!
Faculty, staff and returning students are invited and encouraged to participate in the Tiger Roar to greet the new students with their Tiger welcome. Greeters will assemble at the Faye Spanos Concert Hall walkway between 11:30 and 11:45 a.m.
Immediately following the Tiger Roar the Pacific family will come together for the All-Campus Welcome barbeque on Knoles Lawn. Returning students, faculty, staff and alumni come together to welcome our newest students to their new home at Pacific and let them know they are an important part of the Pacific family!
For questions or information about Convocation or Tiger Roar, please contact the office of New Student and Family Programs at 209.946.7619.
Event Type

Sponsoring Department

Student Life, College of the Pacific, School of International Studies, Benerd School of Education, Gladys L., Eberhardt School of Business, Engineering & Computer Science, School of, Thomas J. Long School of Pharmacy and Health Sciences, Conservatory of Music, Graduate School, University College

Audience
Department

Subscribe