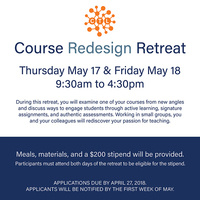 Course Redesign Retreat
Thursday, May 17, 2018 at 9:30 am to 4:30 pm
Center for Teaching and Learning
William Knox Holt Memorial Library, 2nd Floor, Room 230
During this retreat, you will examine one of your courses from new angles and discuss ways to engage students through active learning, signature assignments, and authentic assessments. Working in small groups, you and your colleagues will rediscover your passion for teaching.
Thursday, May 17, 2018 and Friday, May 18, 2018
Meals, materials, and a $200 stipend will be provided.
In return, participants must attend both days of the retreat and teach their redesigned course during the 2018-19 year.
Applications due by April 27, 2018. Applicants will be notified by the first week of May.
Please complete an application to attend the Course Redesign Retreat.
Questions? Email Leslie Bayers (lbayers@pacific.edu)
Co-sponsored by the Center for Teaching and Learning and the Office of Summer Sessions
Event Type

Sponsoring Department

Audience

Tags

Website
Department

Subscribe