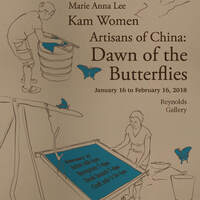 Exhibit: "Kam Women Artisans of China: Dawn of the Butterflies "
Friday, February 16, 2018 at 9:00 am to 4:30 pm
Reynolds Art Gallery
1071 W Mendocino Ave, Stockton, CA 95204
Marie Lee, associate professor of graphic design in the Department of Art & Graphic Design, presents her sabbatical exhibition and book publication. Photographs, artifacts, and manuscript pages explore the cultural artisan traditions of the Kam women artisans in China.
Jan. 16 – Feb. 16: Exhibition and book launch
Feb. 15 Events at the Reynolds Gallery
Artist talk: Starting and Implementing a
Community-Based Project - 6pm
Reception - 7–8pm
Book launch and signing - 7–8pm
Craft sale by Singing Hands Cooperative -5:30–8pm
The exhibition presents excerpts of Marie Anna Lee's apprenticeship with the Dimen artisans that resulted in the creation of the Kam Women Artisans of China: Dawn of the Butterflies manuscript, published by Cambridge Scholars Publishing in 2018. The 290-page book contains Lee's 64 technical illustrations and countless original photographs. The book layout has also been designed by Lee following the publisher's requirements.
Lee trails several women from Kam minority village of Dimen in southwestern China who are masters of many cultural arts. Following the centuries-old lifestyle of their ancestors, they are the living repositories of their civilization. They carry the unwritten history and wisdom of the Kam people in their songs, weave cloth that is smooth and strong, and dye fabric to the richest indigo blue. They devote every free moment to embroidering sleeves, hems, hats and purses in the bright colors of the natural setting that surrounds the village.
Through everyday activities, lessons in craft, folk stories and songs, the women weave a patchwork of Kam culture and reveal its hidden treasures in fibers, textiles, papermaking as well as ethnography, anthropology and Sinology. Learn from the past long lost in Western tradition, explore contemporary rural life in China, and experience ancient culture metamorphosing under pressure of technology.
More information about the project is available at MarieAnnaLee.com/Kam and SingingHands.org.
Lee has worked on cultural preservation of Kam indigenous heritage since 2007 and received the 2013 and 2014 SEED (Social Environmental Economic Design) Award honorable mention for excellence in public interest design for her work in Dimen. As part of the Kam delegation from Dimen, Lee presented at the Smithsonian Folklife Festival in Washington, D.C. in 2014. She taught at Public Interest Design Institute in Denver in 2013 and presented her research at numerous national and international conferences.
Jeannette Powell Art Center and Reynolds Gallery Hours:
Monday - Friday, 9 am–4:40 pm. The Reynolds Gallery is located at 1071 Mendocino Ave. Stockton, CA 95211.
Event Type

Sponsoring Department

Tags

Website
Cost

Free and open to the public

Department

Hashtag

Subscribe