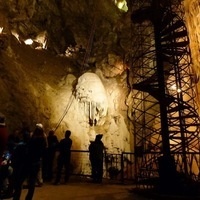 Day of Play at Moaning Cavern Adventure Park
Saturday, May 20, 2017 at 12:00 pm
Moaning Cavern Adventure Park 5350 Moaning Caverns Rd. Vallecito, CA 95251
Join Pacific Alumni Association as we explore the inside of our beautiful planet!
Pacific Day of Play
Moaning Cavern Adventure Park in Murphys
Saturday, May 20, 2017
12 p.m.
A 45-minute guided walking tour descends the historic, 100-foot spiral staircase (235 steps down and up) into the earth, where the spectacular vertical main chamber is large enough to hold the entire Statue of Liberty. Inspiring the local Miwok tribe's legend of "Yayali," a cave dwelling rock monster, Moaning Cavern still emits the eerie sound today.
Bring your picnic lunch and come join us for a DAY of PLAY! Walking tour begins at noon. Once we are back above ground, those who dare can race the thrilling 1500-foot twin zip line or climb the rock wall!
Pricing
Cave Walking Tour: $15/person

Twin Zip Line: $32/person

Climbing Tower: $3.50/person
Sponsoring Department

Website
Cost

starting at $15

Department

Subscribe