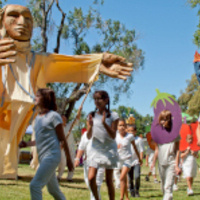 DeltaFusion - Summer workshops
Friday, June 21, 2013
DeMarcus Brown Theatre
1150-1166 Uop South Srv Rd, Stockton, CA 95204
Students of all ages are invited to participate in this summer's workshops. Classes will be held in mask making, puppetry, movement and storytelling over a two-week period, June 10th through June 28. culminating in a parade and pageant in Victory Park on June 29.
Participation is free, but enrollment through the Haggin Museum's Summer Art Workshop is required. Call 209.940.6315 or email education@hagginmuseum.org to sign up.
Workshops Schedule:
Big Build Sessions
University of the Pacific's Theater Arts Building. Only adults are invited to attend.
May 11, Saturday, 9 am – 1 pm
May 18, Saturday, 9 am – 1 pm
June 1, Saturday, 9 am – 1 pm
Community Workshops
Pacific's Theater Arts Building
June 10 – 21, Monday – Friday
Kids ages 6 – 12: Monday – Friday, 1:30 – 2:45 pm
Ages 13 - Adult, Monday – Friday, 3:15 – 5:15 pm
Rehearsals
Pacific's Theater Arts Building
June 24 – 27, Monday – Thursday
Victory Park
June 28, Friday
Performance at Victory Park
June 29, Saturday
9:00 am: Entire cast
Delta Fusion is a community collaborative effort cosponsored by University of the Pacific, the Haggin Museum and other community partners, along with grant funding from the James Irvine Foundation
Event Type

Sponsoring Department

Website
Department

Subscribe