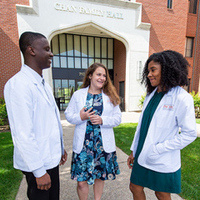 Doctor of Pharmacy Preview Day
Saturday, September 15, 2018 at 10:00 am to 4:00 pm
Chan Family Health Sciences Learning Center and Clinics, PHS 115 757 Brookside Road, Stockton, CA 95211
Immerse yourself in the Pacific community by attending a mock lecture, taking a tour of our campus and getting your questions answered during our pharmacist and student panels. Learn more about the admissions process, financial aid and scholarships. Imagine yourself here — explore living on campus by touring Chan Family Hall. We encourage all prospective students and family members to attend this full-day event.
Please Note: This event is specifically tailored for students applying directly to the PharmD program. We encourage all students currently in high school to attend one of the Pacific Preview Days designed for undergraduate students.
Tentative Schedule
9:30 a.m. | Check-in
10:00 a.m. | Welcome and Overview
10:30 a.m. | Faculty Session
11:30 a.m. | Pharmacist Session
12:30 p.m. | Lunch
1 – 4 p.m. | Tour and sessions on admissions and financial aid
No parking permit is required for this event.
Will this be your first time to the Pacific campus? Download a campus map and review our tips for planning your trip.
Event Type

Audience
Department

Subscribe