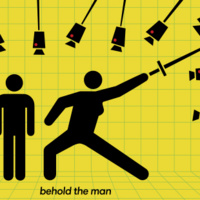 Theatre Arts Presents: "Ecce Homo"
Saturday, April 21, 2018 at 8:00 pm to 9:30 pm
The Long Theatre
1041 Dave Brubeck Way, Stockton, CA 95204
University of the Pacific presents a motion-capture romantic comedy by playwright, Jonathan Luskin and director, Lisa A. Tromovitch, professor of Theatre Arts.
Troy Steel is an aspiring action movie hero, fired from a reality television show for his inability to lie, and left publicly humiliated but internationally famous. Annabella is a talented actress, too big-boned and brusque for a career on screen, she can only find work performing behind the mask of computer animated characters. When Troy is hired to animate a heroic warrior using a motion-capture suit, he is unable to perform even the simplest of scenes without suffering a crisis of confidence. The producer coerces Annabella to act Troy's part for him. The animated pilot is a wild success and Troy and Annabella are bound together by her secret work on his behalf and his unknowing collaboration. Their journey together is perilously guided by therapy sessions with Oona, a plush-toy orca whale, and Troy's grandparents, famous vaudeville actors who return from the past.

The play mixes real time motion capture sequences and digital recorded motion capture video in combination with animated digital sequences. It also incorporates film and video gaming and examines how theater and entertainment artists face new technologies: some of us embrace them and some fear the demise of theater. Theater, of course, never dies, and in fact ends up integrating with technology, from the vaudeville stage to the cinema screen and from motion capture animation back to live performance, as we see when Troy and Anabellas fans demand a live version of the show in front of a studio audience.
Performances are April 13 and 14 at 8 p.m., April 15 at 2 p.m., April 19-21 at 8 p.m. A panel discussion with Gender Studies and Media X representatives follows the 2 p.m. matinee on Sunday, April 15.
Event Type

Sponsoring Department

Audience

Website
Cost

Free advance, $5 door

Department

Hashtag

Subscribe