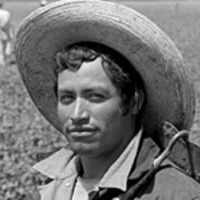 Exhibit "Bittersweet Harvest: The Bracero Program 1942-1964"
Friday, October 25, 2013 at 9:00 am to 4:30 pm
Reynolds Art Gallery
1071 W Mendocino Ave, Stockton, CA 95204
This moving new bilingual exhibition from the Smithsonian's National Museum of American History examines the experiences of bracero workers and their families, providing rich insight into Mexican American history and historical background to today's debates on guest worker programs. Consisting of 15 freestanding, illustrated banners, the exhibition combines recent scholarship, powerful photographs from the Smithsonian's collection, and audio excerpts from oral histories contributed by former contract workers.
The exhibit is the thematic centerpiece of Pacific's 2013 Latino Heritage Month celebration. Additional artifacts significant to local and regional involvement in the bracero program will be added by faculty, students, staff and alumni to enrich the exhibit.
Exhibition dates and time for Bittersweet Harvest:
Sept. 24 - Oct. 25, 2013
Monday - Friday, 9 a.m. - 4:30 p.m.
Saturday & Sunday, 1 - 5 p.m.
Reception: Friday, Sept. 27, 4 - 6 p.m.
Homecoming/Alumni Event: Friday, Oct. 18
Gallery Extended Hours, 5 - 8 p.m., Reception, 6 - 7 p.m.
The Emergency Farm Labor or Bracero program came about as a result of labor shortages in the U.S. during WWII, bringing approximately two million Mexicans to work in the U.S. This exhibit documents the global and intercultural issues linked to the Bracero program. It puts a face on the people who have labored in our fields and personalizes the politics of labor and immigration. Find out more on the Reynolds Gallery exhibit website.
Sponsored by Pacific Arts and Lectures Committee
Event Type

Sponsoring Department
Cost

free and open to the public

Department

Subscribe