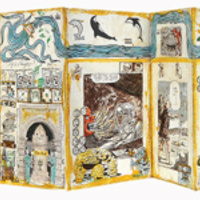 Exhibit: "Escape From Fantasylandia"
Friday, September 20, 2013
Reynolds Art Gallery
1071 W Mendocino Ave, Stockton, CA 95204
Chagoya's art integrates diverse elements from pre-Columbian mythology, western religious iconography and American popular culture.
Exhibit - August 27-September 20
Gallery Hours: Mon. - Fri., 9 am - 4:30 pm; Sat. and Sun. 1-5 pm, or by appointment
Artist Lecture & Reception - Friday, September 13
Gallery Talk - Biology Building - 101, 6 pm - 7 pm
Reception - Reynold's Gallery, 7 pm - 9 pm
Born in Mexico in 1953, Chagoya is currently associate professor of art at Stanford University. His work is shown widely and is held among the collections of the National Museum of American Art, the Museum of Modern Art, the Metropolitan Musicum of Art and others.
Drawing from his experiences living on both sides of the U.S.-Mexico border in the late 1970s, and also in Europe in the late 1990s, Enrique Chagoya juxtaposes secular, popular, and religious symbols in order to address the ongoing cultural clash between the United States, Latin America and the world. He uses familiar pop icons to create deceptively friendly points of entry for the discussion of complex issues. Through these seemingly harmless characters, Chagoya examines the recurring subject of colonialism and oppression that continues to riddle contemporary American foreign policy.
This event is held in conjunction with Pacific's 2013 Latino Heritage Month Celebration and sponsored by Pacific Arts and Lectures Committee.
Sponsoring Department
Cost

Free and open to the public

Department

Subscribe