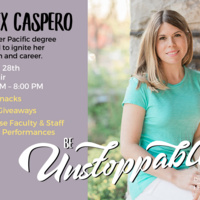 Be Unstoppable with Alex Caspero
Tuesday, March 28, 2017 at 7:00 pm to 9:00 pm
Don & Karen DeRosa University Center, Ballroom
901 Presidents Dr, Stockton, CA 95211
Join us to hear Pacific alumna Alex Caspero '09, award-winning food blogger, registered dietician, and published author, share how her Pacific degree ignited her passion and career. There will be delicious snacks from her cookbook, raffle prize drawings, and surprise performances from faculty and staff.
Optional: bring a donation of a canned or boxed food item for the Pacific Food Pantry.
Free snacks and giveaways.
Faculty and staff interested in participating in the performances, please use this form to indicate your interest.
Contact Director of Wellness Education Liz Thompson (lthompso@pacific.edu) or CTL Director Lott Hill (lhill@pacific.edu) for more information.
This is part of PacWellness Week events.