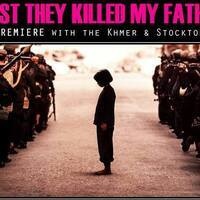 Film: First They Killed My Father"
Sunday, September 17, 2017 at 4:00 pm to 6:00 pm
Janet Leigh Theatre
3601 Pacific Ave, Stockton, CA 95211
The Multicultural Center and the Khmer Space collaborated to bring this screening of this film directed by actress Angelina Jolie about Cambodian author and human rights activist Loung Ung and the horrors she suffered under the rule of the deadly Khmer Rouge.
Following the film, there will be a Q&A with a panel of survivors, refugees, community leaders and mental health professionals.
The film was shot on location in Cambodia, between November 2015 and February 2016. It was filmed entirely in the Khmer language, and is the largest movie ever made in the country. The cast is made up entirely of Cambodian actors. Cambodian technicians, artisans and crafts people comprised the largest portion of the crew, along with more than 3,500 Cambodian background actors.
Note: free tickets have been SOLD OUT! On the day of the event, those with registered tickets will be seated from 3:30 - 3:50 pm. After 3:50 pm the remaining seats will be filled.
For questions or more information, contact khmerspace209@gmail.com.
Event Type

Sponsoring Department
Cost

This event is FREE and open to the public.

Department

Subscribe