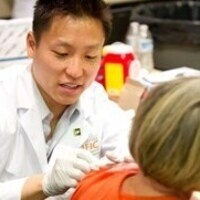 Free Community Health Fair for Medicare Beneficiaries
Saturday, November 16, 2013 at 10:00 am to 6:00 pm
Thomas J. Long School of Pharmacy and Health Sciences annual community outreach program for Medicare beneficiaries and seniors will make stops at 14 locations in eight different cities in Northern and Central California starting in mid-October.
This is the seventh year of the program, which is organized by student pharmacists. Each event is designed to help Medicare beneficiaries save money on their Part D plan, gain a better understanding of the Part D benefit, review their medications to identify any severe medication-related issues and provide health care screening services.
Appointments are recommended.
Contact Kim Calder at 209.946.7754 to schedule an appointment at any of the sites below:
STOCKTON
Oct. 15, 1 -5 p.m., Tuesday, Jen Wah, 238 E. Church St.
Oct. 19, 10 a.m.-6 p.m., Saturday, University of the Pacific, 751 Brookside Rd.
Oct. 27, 10 a.m.-6 p.m., Sunday, O'Connor Woods, 3400 Wagner Heights Rd.
Nov. 1, 1-6 p.m., Friday, Franco Center, 144 Mun Kwok Ln, Stockton
Nov. 7, 1-6 p.m., Thursday, Northeast Community Center, 2885 E. Harding Way
Nov. 15, 1-6 p.m., Fri., First Congressional Church, 3409 Brookside Rd.
MODESTO
Oct. 18, 1-6 p.m., Friday, Casa de Modesto, 1745 Eldena Way
LODI
Oct. 24, 1-7 p.m., Thursday, Hutchins Street Square, 125 S. Hutchins St.
Oct. 31, 1-6 p.m., Thursday, LOEL Center and Gardens, 1051 S. Washington St.
SACRAMENTO
Oct. 26, 10 a.m.-4 p.m., Saturday, McGeorge School of Law, Student Center, 3200 5th Ave. (in collaboration with McGeorge Elder and Health Law Clinic)
TRACY
Nov. 14, 1-6 p.m., Thursday, Tracy Community Center, 950 East St.,
BAY AREA
Oct. 20, 10 a.m.-6 p.m., Sunday, Seven Trees Community Center, 3590 Cas Dr., San Jose
Nov. 9, 10 a.m.-6 p.m., Saturday, Lytton Gardens, 656 Lytton Ave., Palo Alto
Nov. 16, 10 a.m.-6 p.m., Saturday,Ed Roberts Campus, 3075 Adeline St., Berkeley
Download a full schedule, addresses and site contact information for all Medicare Outreach Events
For information on What to Bring
Event Type

Website
Department

Subscribe