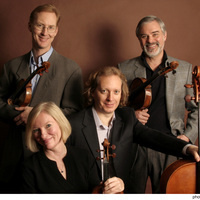 Friends of Chamber Music - American String Quartet
Sunday, September 24, 2017 at 2:30 pm
Faye Spanos Concert Hall
3511 Pacific Ave, Stockton, CA 95204
Internationally recognized as one of the world's foremost quartets, the American String Quartet celebrates its 41st season in 2016–2017. Critics and col­leagues hold the Quartet in high esteem and many of today's leading artists and composers seek out the Quartet for col­lab­o­ra­tions.
The Quartet is also known for its performances of the complete quartets of Beethoven, Brahms, Schubert, Schoenberg, Bartók, Mendels­sohn, and Mozart, as well as all the string quintets of Mozart, Mendels­sohn, and Brahms. The Quartet's recordings of the complete Mozart string quartets on a matched set of Stradi­varius instruments are widely held to set the standard for this repertoire.
To celebrate its 35th anniversary, the Quartet recorded an ambitious CD, Schubert's Echo, released by NSS Music. The program invites the listener to appreciate the influence of Schubert on two masterworks of early 20th-century Vienna.
The American also champions contemporary music. The Quartet has commissioned and premiered works by distinguished American composers Claus Adam, Richard Danielpour, Kenneth Fuchs, Tobias Picker, George Tsontakis, and Robert Sirota. The Quartet has recorded on the Albany, CRI, MusicMasters, Musical Heritage Society, Nonesuch, and RCA labels. The Quartet's discography includes works by Adam, Corigliano, Danielpour, Dvořák, Fuchs, Prokofiev, Schoenberg, and Tsontakis.
Event Type

Sponsoring Department
Cost

Adults $25, Pacific Faculty and Staff $15

Department

Subscribe