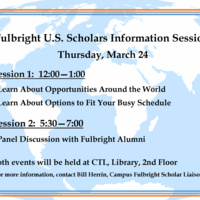 Fulbright Information Session for Faculty
Thursday, March 24, 2016 at 5:30 pm to 7:00 pm
Center for Teaching and Learning
William Knox Holt Memorial Library, 2nd Floor, Room 230
The Provost's Office and the School of International Studies are hosting several information sessions for faculty and students to learn more about the Fulbright Scholar Program, which offers opportunities in virtually all academic disciplines and in a wide variety of countries across six continents.
This is the second session, which will feature a panel of Fulbright faculty alumni who will share their thoughts, insights and experiences. They will also share the sense of anticipation, adventure, and maybe even anxiety that is such an integral part of the Fulbright experience.
To learn more about Fulbright opportunities and these informational events, please contact Dr. Bill Herrin, Director of the School of International Studies (SIS) and University Fulbright Scholar Program Representative, at wherrin@pacific.edu.
Sponsoring Department
Department

Subscribe