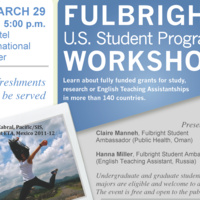 Fulbright Information Session for Students
Tuesday, March 29, 2016 at 5:00 pm to 6:00 pm
Bechtel International Center
3547 Baxter Walkway, Stockton, CA 95211
The Provost's Office and the School of International Studies are hosting several information sessions for faculty and students to learn more about the Fulbright Scholar and US Student Program, which offers opportunities in virtually all academic disciplines and in a wide variety of countries across six continents. The sessions will be held in the Bechtel Center.
This is the second of two US Student Fulbright sessions, and will provide information for students interested in applying. Two Fulbright Alumni Ambassadors will present the program from the student point of view, and answer questions. The first session, at 4pm, is for faculty who may mentor applicants, or may participate in the Campus Screening Committee to interview applicants. Students and faculty mentors are welcome at both sessions.
To learn more this event, please contact Dr. Susan Weiner, Pacific's Fellowship Advisor, at sweiner@pacific.edu.
Sponsoring Department
Department

Subscribe