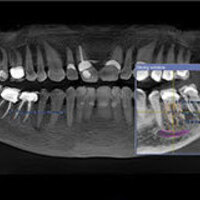 Fundamentals of Cone Beam CT Safety and Technology
Saturday, June 17, 2017 at 9:00 am to 4:00 pm
Arthur A. Dugoni School of Dentistry
155 Fifth Street, San Francisco, CA 94103
This comprehensive bone grafting symposium offers oral surgeons, periodontists, prosthodontists and general dental practitioners the unique opportunity to expand their knowledge base and comfort level with surgical implant dentistry. You will learn from the field's top international authorities about surgical reconstruction of the alveolar ridge in one "surgical weekend." The symposium will provide the most current and clinically relevant information on ridge preservation, bone grafting, 2-D and 3-D bone augmentation and modern bone regeneration techniques, presented by some of the world's leading experts in the field.
You Will Learn
Cutting-edge surgical techniques including, but not limited to, guided bone regeneration, ridge-split, sandwich plasty, block grafting, use of growth factors with PRF and BMP-2 applications
Advanced hard and soft tissue preservation and augmentation techniques
Comprehensive evaluation of implant patient and effective treatment planning
Two-dimensional, three-dimensional and time-dependent 4D alveolar ridge reconstruction for implant patients utilizing interdisciplinary collaboration and team approach in implant dentistry
Who Should Attend
The program is open to all specialists and general practitioners interested in obtaining an in-depth knowledge of cutting-edge surgical techniques for bone development in implant dentistry.
Credits: This activity is designated for 6 units of continuing education credit.
*Program limited to 24 participants; includes lunch and coffee/tea service in the morning. Participants are encouraged to bring 2-3 cases on a CD-ROM for consultation and group discussion. Custom sessions are also available for your practice or interdisciplinary team.
Faculty
Miriam K. Robins, DDS, is co-director of the Department of Radiology at the Dugoni School of Dentistry. She is a board certified oral and maxillofacial radiologist who practiced general dentistry in Ohio for 36 years. After moving to the Bay Area, she became an instructor in the radiology at the Dugoni School for five years and then went to UTHSCSA to pursue advanced training in oral and maxillofacial radiology.
University of the Pacific, Arthur A. Dugoni School of Dentistry would like to acknowledge and thank i-CAT for their generous support of this program.