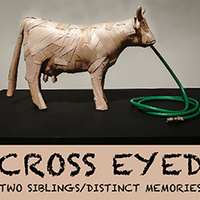 Gallery Exhibit, Cross-Eyed: Two Siblings / Distinct Memories
Friday, March 31, 2017 at 9:00 am to 4:30 pm
Reynolds Art Gallery
1071 W Mendocino Ave, Stockton, CA 95204
The Reynolds Gallery presents, Cross-Eyed: Two Siblings/Distinct Memories an exhibition of works by brother and sister, John and Leah Harper, on view Feb. 27 through March 31. (Please note Reynolds Gallery is closed March 13 - 17 for Pacific's Spring Break.)
Join us Thursday, March 9, at 6:00 pm for reception, and presentation by the artists. This event is free and open to the public.
Through writings and artworks, siblings John and Leah Harper have created a magical and humorous exhibit drawn from diverging memories of shared childhood experiences.
Growing up in a family of little means, the Harpers did not have an abundance of material wealth. However, they did have a rich cultural background of California pioneer and Native American heritage. Active imaginations and childhood creativity more than made up for a lack of fancy toys, board games or television. John Harper notes: "We were a very large and religious family sharing an acre of land with our chickens, pigs, turkeys, ducks and at least one cow, not to mention the fruit trees, a vegetable garden and Mom's strawberry patch. It seemed to me we had everything."
This exhibition originated at the Redding Art Museum in 1998 and has traveled to the National John Steinbeck Center in Salinas, California, The Hermitage Museum in Nashville Tennessee and returned to Redding, California with an exhibition and lecture presentation at the Shasta College Art Gallery.
Cross-Eyed: Two Siblings / Distinct Memories
Feb. 27 - March 31, 2017
(Gallery closed March 13 - 17, for Pacific's 2017 Spring Break.)
Gallery Hours:
Monday - Friday, 9:00 am - 4:30 p.m.
Reception and Artist's Presentation:
Thursday, March 9, 6:00 p.m.
Event Type

Sponsoring Department

Website
Cost

free

Department

Subscribe